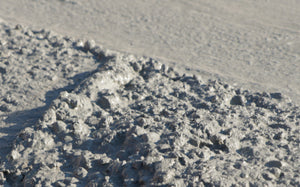 Concrete Saturday Delivery ~ Prices & are pm3 Inclusive of GST - if you want 'points' of m3 please add to notes at checkout
  We do supply concrete in 0.1m3 increments!!! 
Simply place your order for the closest figure you want, when you go through to 'View Cart' you can write in the 'Special Instructions' exactly how much concrete your after ie 4.8m3  - The final 'checkout' email you receive back will list the correct $ amount for your quantity of Concrete


Delivery fee applies for less than 4m3
.6m3 to 1m3  $154.00inc  
 1.1m3 to 3.9m3 $121.00inc  



Our fresh, ready-mix concrete comes straight from the batch plant to your site.
We use major, reputable concrete suppliers you can trust.
You can expect a delivery from a big-brand batch plant.
Learn more about concrete with our
concrete guide
.
See the "How to Order" tab above (below the Add to Cart button) if you're stuck on ordering.
Payment
There is no payment required at initial checkout/booking request. 

 Once we receive your order, we will endeavor achieve your requested delivery date/time you will receive confirmation of this via phone call, text or email, either straight away, or possibly the next day, depending on what time you place the order.
YOUR ORDER IS NOT FULLY-BOOKED UNTIL YOU'VE HEARD FROM US CONFIRMING THE DETAILS VIA PHONE CALL OR TEXT
The day before your delivery, you will be contacted to check that you are 'good to go' for the following day. We do this to check we have the details correct, and also to avoid same-day cancelations, as these are frowned upon due simply to how busy things are. When you cancel same-day, you've prevented someone else from achieving what they were hoping to do. You will also be forwarded a confirmation email, this will list your delivery address, and your booking specifics: Anticipated delivery time, qty and mix as well as the price payable.
On delivery day, we will contact you approximately 90mins ahead of your booking.  This is for 'Final Confirmation', we re-check the job specifics and take your debit/credit card details, a hold is placed on the order total and the payment will sit in the pending section of your banking until after dispatch has occurred. We ALWAYS phone ahead of delivery, for final confirmation and payment. Your delivery WILL NOT be dispatched until this has occurred.
After your delivery has occurred, you will not hear back from us, unless you have incurred any 'extra's, such as truck waiting time (after the truck has been on site for 30mins), or returned concrete disposal charges. This generally takes 3-5 days to occur.  If any extras were incurred you will be contacted via text, and charged for the same.
What's included in the Price
- Delivery (within 20km from the closest batch plant)
- The agitator on site for 30mins
What's not included :
- Wait time, after the truck has been on site for 30mins before you are charged at a rate of up to $4.40ex per min (depending on supplier)
- Distance Charge for deliveries greater than 20km from the plant POA
- Minimum Cartage @ $121.00inc to $154.00inc  for loads between .6 and 3.9m3 
- Wastage disposal, returned concrete 
- Adjustments to the default mix (Accelerators / Retardants etc)
Please read the additional charges (not included in the price of concrete) before ordering.
If you order more than 7m3, your delivery will require more than one truckload. Our default spacing between delivering each load is 30 minutes. You may require more time if you are using barrows instead of a pump, are new to concreting or there are issues with access. If you need a different spacing between deliveries, be sure to let us know by writing a note in your cart (top right).

We also have a minimum order of 0.6m3 in a single delivery, and 1m3 for exposed blends.
On the day if you need more concrete than the quantity ordered, you must contact 0417 394 117 to ensure further payment is received so that your job can proceed without effect. 
If you have any queries, feel free to contact us.
The product images shown are for illustration purposes only. 
For more information please read our terms and conditions.